---
THE FILM:
Zachariah Char, a Sudanese "Lost Boy" featured in the New York Times, returns to South Sudan and his home village of Duk Padiet to search for his mother and father – 24 years after fleeing the country during a civil war.
THE CREATIVE TEAM:
Heading this project are Academy Award-winning cinematographer Tom Hurwitz, Grammy-Award winning songwriter Marcus Hummon and Academy Award-nominated Editor Ann Collins.
STORY OF THE LOST BOYS: 
Rev. Zachariah Char left his home village in Sudan in 1987 after the Islamic government declared that all males in Christian South Sudan would be killed.  Approximately 27,000 boys and young men fled the Sudan and settled in refugee camps in Ethiopia, where they remained for four years.  In 1991, deteriorating conditions forced many to travel to Kenya, where they were relocated to Kakuma, a U.N. refugee camp.  Tragically, only 12,000 boys and young men survived this extraordinarily arduous journey.  In 2001, the U.S. and other nations granted visas to those in the Kakuma camp.  In the West they became known as the "Lost Boys."  Nearly 4,000 settled in the U.S., including Zachariah.
---
Lost Boy Home now available on Amazon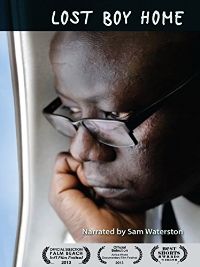 ---
Palm Beach International Film Festival – World Premiere
Lost Boy Home was honored to have its World Premiere occur at the PBIFF. In an article in the Palm Beach Post Randi Emerman, Festival Director, singled out Lost Boy Home as one of three films for filmgoers to screen during the Festival and journalist Larry Richman gave Lost Boy Home **** (four stars).
---
Africa World Documentary Film Festival – Official Selection
Lost Boy Home was honored to have been an "Official Selection" of the AWDFF and has been screened at the IRepresent International Documentary Film Festival in Lagos Nigeria, St. Louis University and at the University of Kansas.
---
Best Shorts Competition – Award of Excellence
Lost Boy Home was honored to have received an "Award of Excellence: Short Documentary" from the Best Shorts Competition